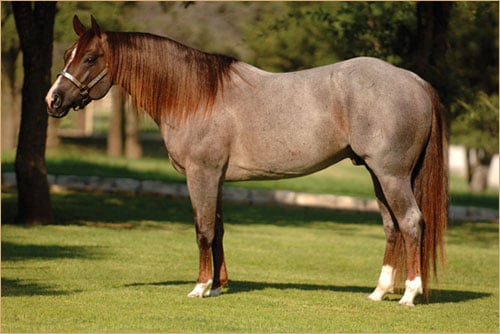 Click here to view detailed pedigree
Click Here for Up-to-Date Statistics on One Time Pepto


In 2002, Jeffrey Matthews came across a very special colt that captured his attention and would become the foundation of Matthews Cutting Horses in Texas. Sired by the legendary Peptoboonsmal, the red roan colt was out of the great dam One Time Soon, who is the producer of NCHA money earners in excess of $648,000. In addition to his exemplary pedigree, the young prospect had the fluid movement, extraordinary conformation and profound presence that Matthews envisioned at the helm of a world-class breeding program. Not too long thereafter, at the 2002 NCHA Select Yearling Sale in Fort Worth, he purchased the colt for a record $380,000.
Today, the cornerstone of Matthews Cutting Horses is this outstanding stallion, One Time Pepto. With his trainer, Matt Gaines, he earned $331,097.00 in less than two seasons of cutting competition. Gaines and the captivating young athlete achieved the sterling accomplishment of winning the 2005 NCHA Open Super Stakes. They were also the 2005 Sun Coast Open Derby Champions, the 2006 Abilene Spectacular 5/6 Year Old Open Champions, and won the 2006 Augusta Futurity 5/6 Year Old Open Classic.
"He just has that presence. He had it then and he has it now, and he'll always have it. He has a lot of special qualities that few horses have and when you get a chance to ride one like that, you really feel fortunate." Matt Gaines
(On his extreme success with One Time Pepto, Gaines summed up the experience.) "The horse became so smart and so confidant in what he was doing, you almost felt invincible." Matt Gaines
"One Time Pepto is smart. He's one of the best moving horses I have ever ridden. He's real athletic." Clint Allen
Ingrained in the Matthews breeding program is the input of some of the most knowledgeable individuals in the business. Among these individuals is trainer, clinician and author, Barbara Schulte, who was intimately involved in the selection of One Time Pepto.

Matthews Cutting Horses, LLC
Jeffrey & Sheri Matthews
Weatherford, TX
(817) 594-0375